I got to know about Juxtapose Pix (and Junwei) through a friend and instantly took a liking to his works. After meeting up for the first time, we found Junwei very comfortable to be around with. :)
He is also quick to respond to our needs very understanding. Like a friend to us, Junwei is also very spontaneous and it didn't took us very long to warm up during our pre-wedding shoot.
He was also such a great help during my AD and we love how our shots turned out, especially for our AD as many meaningful moments are captured.
My husband and I enjoyed working with him, thanks Junwei!
We were initially looking at a few wedding photographers but once we met Junwei it was sort of a done deal. He's a very down-to-earth person and made us feel completely at ease - smth that we found really important in our eventual shoots together.
Having him for our casual pre-wed shoot allowed us to be familiar with each other and Junwei was a responsible and hardworking photographer at every step of the way. He was especially helpful in helping us organize everyone for the group shots and won points with all our family members haha.
The photos turned out really great and we have no regrets! Thank you so much for the wonderful time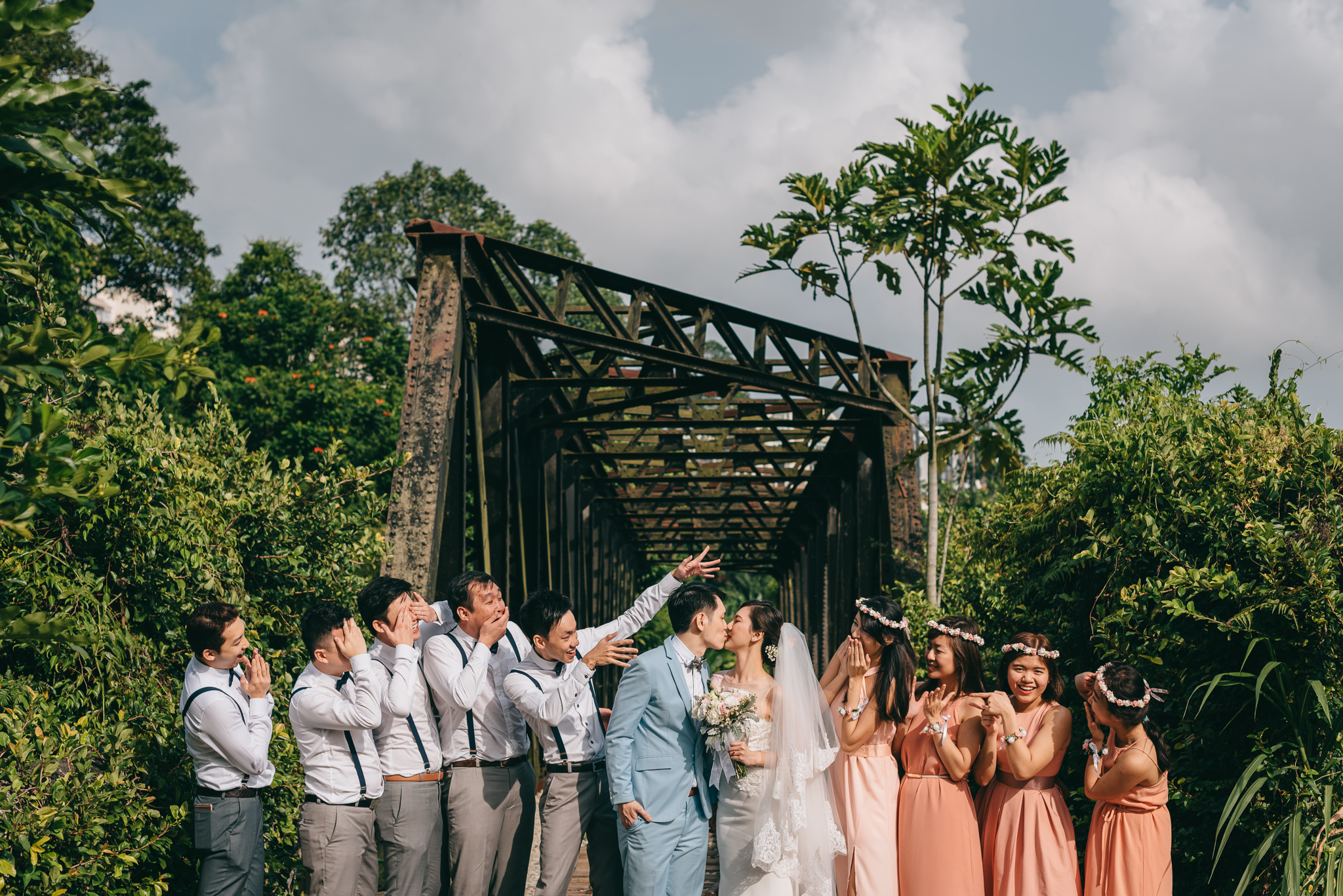 Engaged Junwei for my wedding on 12 February 17. It was one of the best decisions for the wedding! Junwei is helpful and engaging everytime and his photos are splendid!
I definitely would recommend him to everyone who is looking for a wedding actual day photographer :))) thank you Junwei!
Had a 1-hour photoshoot with Junwei this morning at 7am. This is our 2nd time meeting him, first was 10months ago when we were searching for our AD PG.
We totally enjoyed the photoshoot. Junwei feels like a friend and we talk casually. And my bf is someone who needs a very long time to warm up, but he feels comfortable with Junwei. I rem our first meet-up, I was late, and I saw my bf chatting with Junwei. Usually he might just play his game and just wait for me to reach and do the talking.
And today, this is our third photoshoot, but this is the first time I see him warm up in such a short period of time and moreover it's early in the morning. This is how comfortable he's with Junwei. And also, we decided to do a basketball theme photoshoot, which is not so norm, and Junwei knows what kinda shots he wants, directed us and this particular one I must share, he even helped me to adjust my bangs and pony tail. My prev 2 photo shoots, the PG didn't even helped me adjust my gown train. This shows how detailed he is.
Strongly recommend him for your pws and AD!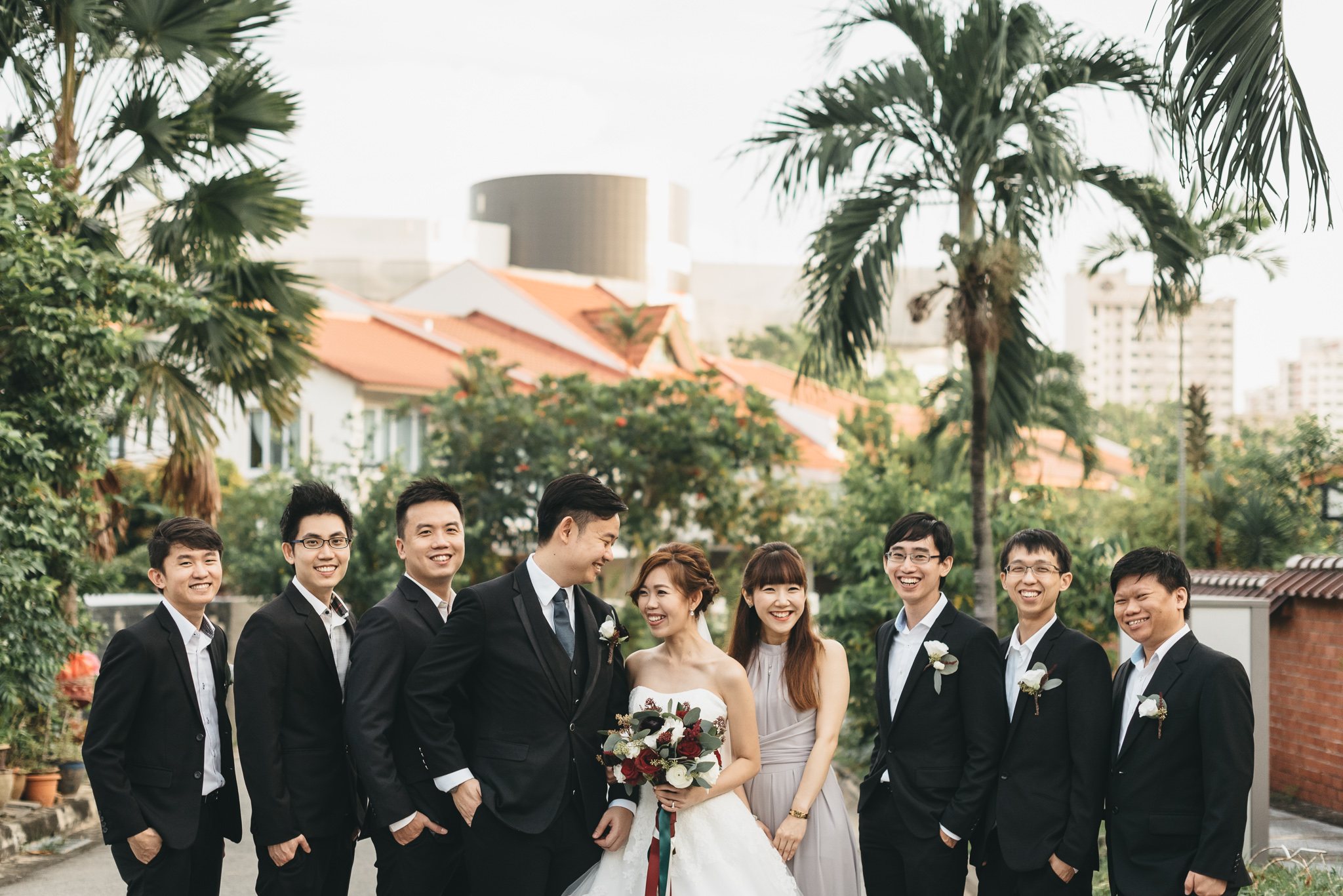 I first got to know Junwei through a colleague while working overseas. Both my husband and I found him really sincere and genuine in providing a quality service. His packages are affordable, but his services and passion in capturing the most authentic moments for us are priceless.
We loved how he works by bouncing off ideas with our videographer during our wedding. We were also very impressed with the well-edited photos for our express photo highlights - they were so beautifully captured and mesmerising it was a challenge to look away from them while hosting our dinner banquet!
If you're not a fan of posed shots and prefer natural and fun photos, Junwei is the one to go for. We are so glad to have Junwei as our photographer for our special day. Thanks for bringing out the best in us! Keep up the good job!
We are glad to have engaged Junwei as our wedding photographer. We love how the photos turned out, especially those casual shots.
We must say Junwei has an eye for candid moments. He managed to capture so many casual yet meaningful shots that we don't remember happening! These wedding photos bring us fond memories of that special day.
Junwei is also very easy to work with and open to communication. We will definitely recommend him to our friends!
We found Junwei purely by coincidence on instagram, contacted him and the rest is history :)
Junwei is extremely professional, and having him as our photographer helped eased our butterflies on our actual wedding day as well as pre wedding shoot. He is friendly, easy to communicate with and most importantly, captures very good photographs.

It is important to hire a good photographer on your wedding day, because you'd be so busy on that day and you'd need someone who knows what he is doing and also responsible and hardworking enough to click away. Junwei has delivered what he promised, and we cant be any happier and grateful to have engaged him.
My ex-colleague recommended Junwei to us. She said Junwei is a very sincere photographer and so we contacted him to be our wedding photographer and never once regretted. After we met Junwei, and during the process of preparing for the wedding, we found him a really sincere and honest person who really want to help create the best memories for your wedding.
He feels more like a friend and goes the extra mile to ensure that we feel comfortable with him photographing our wedding. During the wedding, all the guests were really very happy and comfortable with how he interacted with them and gather them for photos. Not to forget he has really great passion in photography, great aptitude in taking photos that you don't doubt how the photos will turn out after that. His packages are reasonable, no hard selling, no slipshod work; the photos came out beautiful.
We are really thankful to Junwei around for our wedding and thank him for his great effort in ensuring that we have nothing but the best memento for our wedding day. Definitely recommend him if you are looking out for a photographer for wedding or occasions. Junwei is very popular, have friends who wanted to contact him for their weddings but fully taken up. Grab him as soon as you can!
We engaged Juxtapose Pix as our AD photographer for our wedding last weekend and we are so happy with the outcome. Junwei just sent us some sneaks from the wedding day and I cannot wait to see the rest of it! :P
I was introduced to Junwei by a friend, and till now, I'm so thankful for the recommendation. He's one of the most humble, patient photographer I know and what I really loved about him taking our photos is that you don't even realise he is here! so no pressure, so uncomfortable feeling that you have to be constantly looking good etc. He is also really good at capturing candid moments. In fact, I don't even remember seeing him some of those photos! :P
He is also very passionate about what he does, and believes in knowing the couple instead of just treating them as a customer. I remember meeting him for the first time, and he was just talking to me about very random things, and when we got comfortable, then started talking about us a a couple. Obviously, no hard sell throughout. In fact, We felt more like we were talking to a friend and it suddenly hit us to check costs etc etc. LOL.. That was what sealed the deal for me.
His prices are really competitive by the way! He is also getting very popular, so please book in advance. I had 2 friends who wanted to book him for next year's wedding but taken up